26
« on: February 04, 2011, 03:45:54 AM »
SHIMMER - WOMEN ATHLETES, in cooperation with S-Ovation Co. Ltd. and Ring Stars, is proud to announce the United States return of four of the top current generation joshi stars,
Hiroyo Matsumoto
,
Misaki Ohata
,
Ayumi Kurihara
, and
Tomoka Nakagawa
! All four women have been added to the SHIMMER Volumes 37-40 tapings, which will take place on Saturday & Sunday, March 26th & 27th, 2011 at the Berwyn Eagles Club (6309 26th Street) in Berwyn, IL, just outside Chicago!
Though front row seating is already sold out for both days, we do have general admission seating still available for those who may want to join the other forum members in seeing these shows live.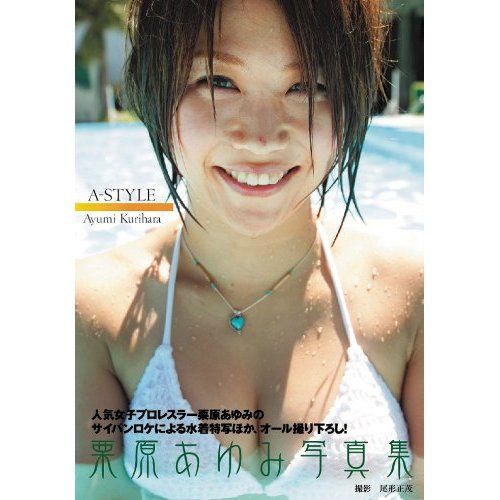 Rivals worldwide, Ayumi Kurihara and Tomoka Nakagawa debuted in SHIMMER action back on Volume 29 as opponents of one another, and in many ways stole the show that day. Ayumi went on to battle numerous SHIMMER originals in subsequent outings, including Nikki Roxx, Sara Del Rey, and Daizee Haze, scoring the necessary victories to earn her first U.S. main event spot on Volume 34 against Madison Eagles.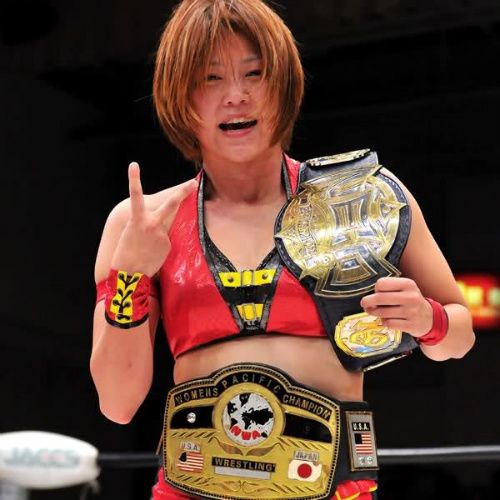 Kurihara closed her 2010 with great success in Japan, making history by defeating Yoshiko Tamura on the final event promoted by NEO, to become the last NEO singles and NWA Pacific Women's Champion. Without question, Ayumi is one of the women who will be a major player in women's professional wrestling on a global scale during the coming years. Ayumi will be back in SHIMMER action March 26th and 27th! Don't miss your chance to see her live at the Berwyn Eagles Club.
Tomoka Nakagawa, though one of the smallest wrestlers on the SHIMMER roster, has proven to the Berwyn fans to be one of the most diabolical rulebreakers on the planet. Nakagawa is not afraid to take liberties with the rules, both actions which may be frowned upon in the eyes of the SHIMMER referees, and oftentimes full blown illegal maneuvers, including her signature water to the eyes of her opponents. These tactics, in combination with Tomoka's vast array of lethal kicks and bridging fisherman suplex, have caught the attention of all of the athletes in the SHIMMER locker room.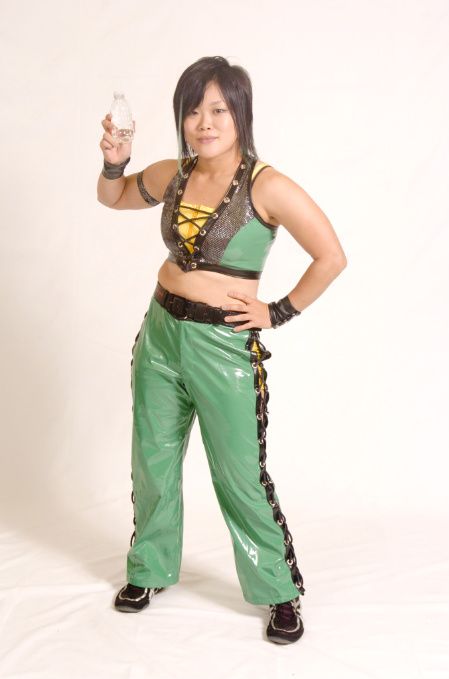 Nakagawa has joined forces with international partner in crime Daizee Haze, forming what has thus far been a very successful tag team combination. With several new teams looking to make their mark during the March tapings in Berwyn, it would be no surprise to see Tomoka and Daizee continue their alliance and remain right in the thick of things in the SHIMMER tag team division.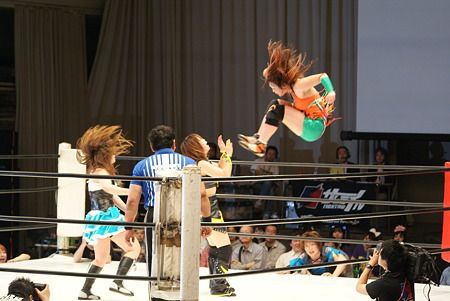 Collectively known as the Seven Star Sisters, or 3S in tag team competition, Hiroyo Matsumoto and Misaki Ohata look to find success in the growing SHIMMER tag team ranks come March. They are another new SHIMMER duo, along with the recently announced Knight Dynasty, who have their eyes on the SHIMMER Tag Team Championship, currently held by The Canadian Ninjas.
Team 3S
Their Seven Star Sisters name relates to a Japanese festival that's celebrated in both of their home towns called Tanabata.
http://en.wikipedia.org/wiki/Tanabata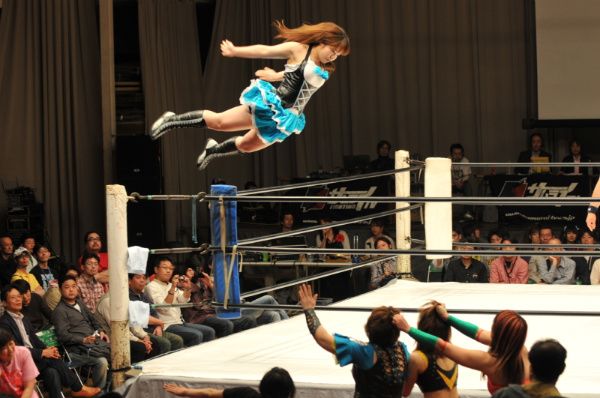 Misaki Ohata
has been a part of SHIMMER since Volume 29. She was able to score an impressive victory in her American debut against one of SHIMMER's top athletes, Daizee Haze. She has also had the opportunity to test her skills in singles bouts against SHIMMER originals such as Sara Del Rey, Cheerleader Melissa, Ariel, Nikki Roxx, and Mercedes Martinez. Ohata was able to score two submission victories at our last set of tapings via her unique Fairy Lock submission hold, just one of many she puts to use to finish off her opponents. Misaki's intention to move into more tag team action presents a new challenge for her inside the SHIMMER ring.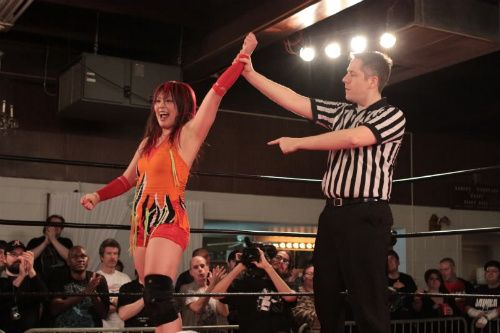 Hiroyo Matsumoto
made her SHIMMER debut on Volume 30 against Sara Del Rey, less than 24 hours after competing in a tournament in Japan. She also went on to have unforgettable bouts against LuFisto and Mercedes Martinez on subsequent SHIMMER DVD releases, the latter of which earned a standing ovation and "Please come back" chant from the fans in attendance at the Berwyn Eagles Club. Though she was forced to miss our last set of tapings due to injury, Hiroyo is anxious to return to the mix alongside Misaki, as they are determined to become a tag team force in the United States.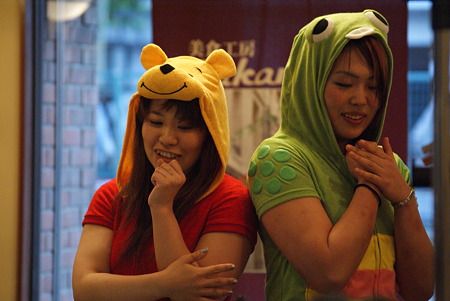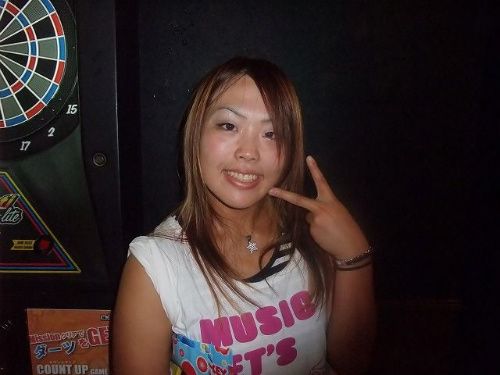 SHIMMER Champion
Madison Eagles
, SHIMMER Tag Team Champions
The Canadian Ninjas
, "Your Soul's Tormentor"
MsChif
,
Cheerleader Melissa
,
Daizee Haze
, "The Queen of Wrestling"
Sara Del Rey
, "The Latina Sensation"
Mercedes Martinez
,
Serena Deeb
,
Saraya Knight
,
Britani Knight
,
Hiroyo Matsumoto
,
Misaki Ohata
,
Ayumi Kurihara
, and
Tomoka Nakagawa
are those confirmed thus far for participation in the March 26th & 27th events.
Front row seating is already SOLD OUT for both days. General admission seating is still available at
http://www.shimmerwrestling.com/
using PayPal. You may also purchase tickets by mail order. E-mail
dave_prazak@yahoo.com
for mail order instructions. Mark your calendars! SHIMMER is back at the Eagles Club in Berwyn on March 26th & 27th!